What Is The Chocolate Diet?
It is a healthy, delicious, lifestyle diet that includes some of the most nutritious whole food on the planet. It was designed the current body of scientific knowledge on what are the best foods for weight loss and overall fitness.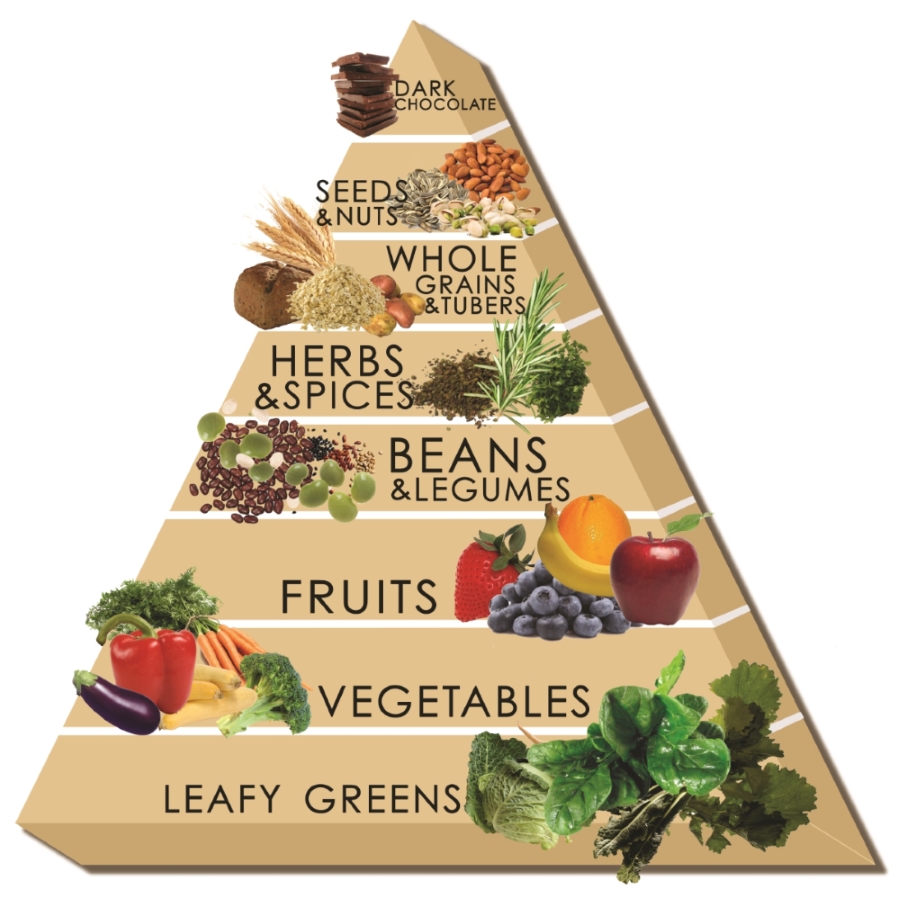 Chocolate Diet Food Pyramid
Is the Chocolate Diet an "all-you-can-eat" Chocolate plan?
No. Chocolate is a rich, high calorie food; therefore, it should be enjoyed in moderation. The Chocolate Diet is unique as it includes 1-2 portions of Dark Chocolate as part of the daily food plan. As you can see on the Chocolate Diet Food Pyramid, it is merely the apex of the food plan.
Do I Need to Purchase Special Weight Loss Chocolate?
No. You can buy your Dark Chocolate at your local chocolatier, supermarket, or convenience store.

Can any kind of Chocolate be Consumed?
While many people love Milk Chocolate and White Chocolate, these are not recommended as they are not the healthiest options. Neither Milk Chocolate nor White Chocolate have been shown to provide health benefits, likely due to the fact these chocolate variants have too little cacao and too many other ingredients which do not promote nutritional excellence.
The Chocolate Diet is designed to include Dark Chocolate with at least 60% cacao. Most brands clearly put this information on the label, so it should be easy to select the right type.
Why Dark Chocolate?
Dark Chocolate is a Superfood which contains phytonutrients (such as flavonals) and other anti-oxidants. Scientific studies have demonstrated that moderate and regular consumption of dark chocolate is linked to lower blood pressure, lower incidents of heart disease, and a lower body mass index.
Yes, the current data suggests that women who enjoy dark chocolate on a daily basis actually weight less than women who do not eat dark chocolate.
Is Dark Chocolate a 'Magic Bullet' for Weight Loss?
Dark Chocolate is a delicious superfood which contains phytonutrients and other antioxidants and has been linked to a wide number of health benefits. Nevertheless, Dark Chocolate itself does not have any 'magical' weight loss properties by itself. This is not really surprising as other extremely healthy foods such as kale, broccoli, blueberries, or even apples do not have any special weight loss properties either.
It is unfortunate that chocolate has been traditionally demonized as a 'bad' food and often excluded from most weight loss plans as this denial approach to a favorite food usually results in a cycle of sabotage. For chocolate lovers who want to lose weight, abstinence from chocolate does not have the intended effect. Instead, it often leads to strong psychological cravings and chocolate binging behaviors which often derails the weight loss plan completely.
The Chocolate Diet allows for the healthy inclusion of Dark Chocolate and employs several clever psychological techniques which transform dark chocolate from a saboteur into a weight loss tool.